The Chicago Mercantile Exchange announced it recorded new all-time high volume of bitcoin futures trading. Bitcoin enthusiast Tom Lee goes further and predicts fast growth of the first cryptocurrency to $14,000 this year.
On 4 April, the cumulative trading volume of BTC-based futures on the Chicago Mercantile Exchange (CME) amounted to 22,542 contracts, 5 BTC each one, equivalent of 112,700 in bitcoins, worth approximately $563 million. On 1 April, only 2162 futures contracts were traded. Since early April, the cumulative volume grew by 950%.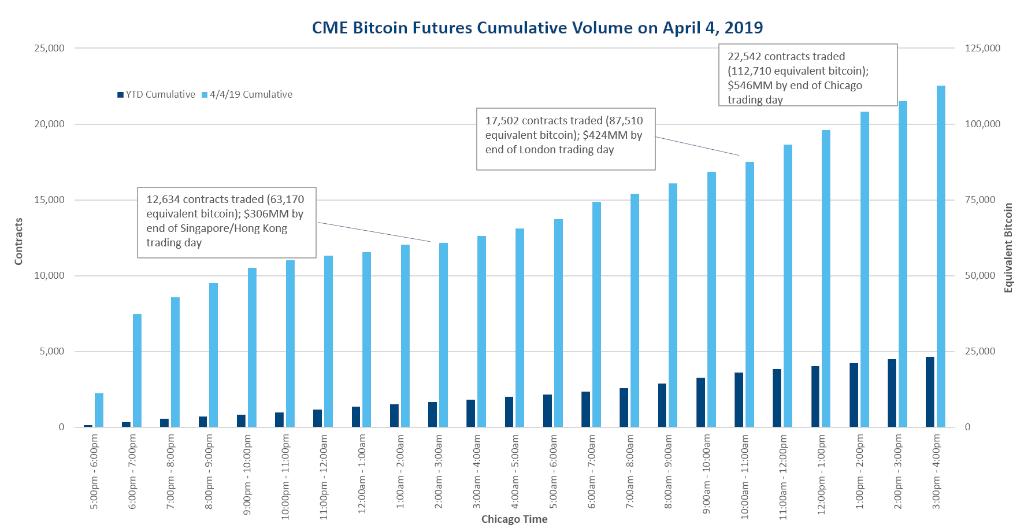 The previous all-time high was set on 19 February, when it amounted to 18,300 contracts, 5 BTC each one, or 64,300 in bitcoins.
Meanwhile, bitcoin continues to grow moderately, adding about 2% per day. Cryptocurrency entrenched at the level of more than $5000, where bitcoin has not been traded since November 2018.
CME became the second US-based traditional exchange that started trading bitcoin-pegged futures contracts in December 2017. The first exchange which launched such an innovative cryptocurrency-based derivative instrument was the Chicago Stock Exchange CBOE.
Despite a significant drop in the cryptocurrency market, CME stated that it does not plan to delist bitcoin futures.
The revival of investor interest in bitcoin derivatives indirectly indicates that the bullish trend is resurging in the crypto market. According to the famous bitcoin enthusiast and financial analyst at Fundstrat Global Advisors Tom Lee, bitcoin starts to grow again. He noted that bitcoin successfully compelled to overcome the 200-day moving average price, which means that the cryptocurrency was able to reverse the bearish trend.
According to Lee, the current fair price of bitcoin is $14,000, taking into account that the cost of mining one BTC is $4,000-$5,000. Lee calculates that the price of an asset in the growing trend should be 2.5 fold higher than its cost of production.