Cryptocurrency trading project Trade-mate.io is launching its own platform for the holders of cryptocurrency portfolios and crypto investors which will include the access to such major exchanges like Binance and Poloniex. This platform allows traders to handle transactions on all the represented exchanges using one interface.
Skolkovo developers created an aggregator of cryptocurrency exchanges with a common interface which can be configured by the user, making it as comfortable as possible. Auto Trade is one of the main functions of the platform. This instrument was created for those people who don't have 6-8 (or even more) hours a day for constant manual trading or lack enough knowledge and skills to carry out technical or fundamental analysis of the market, but who are interested in cryptocurrency and would like to generate some profit.
This instrument works in the following way: Trade-mate.io constantly transmits signals from professional traders to their assigned channels; in its turn, each channel has its rank in the Auto Trade based on the statistics.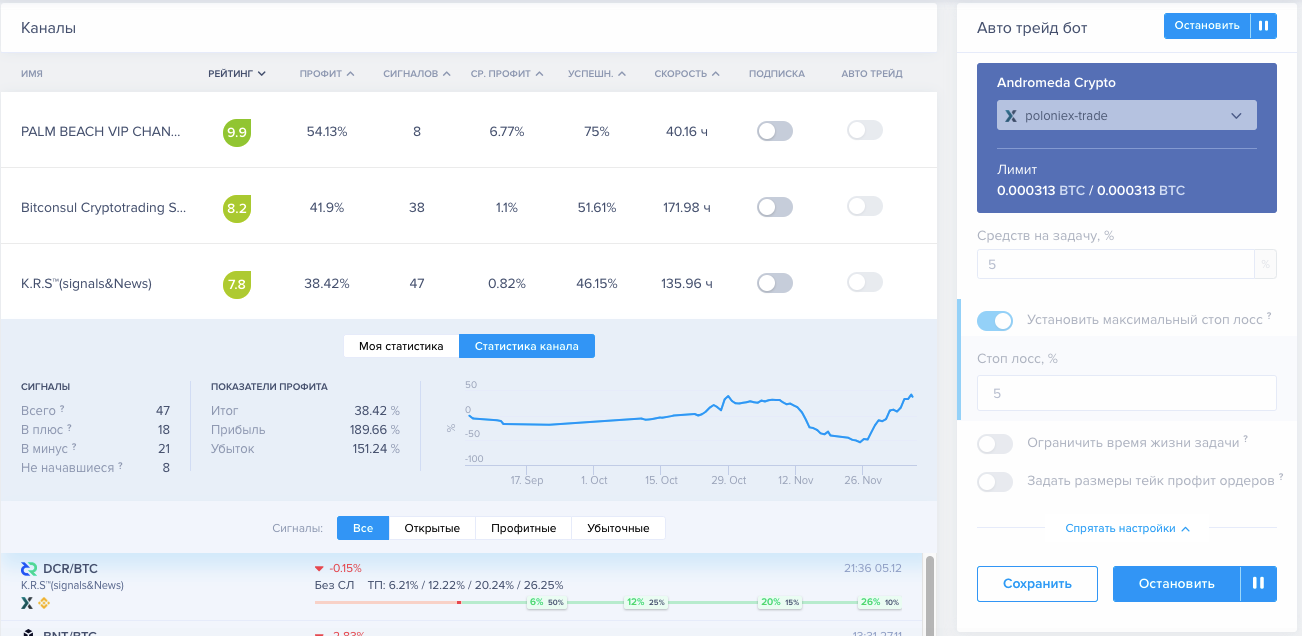 Main parameters used to calculate the rating:
- Average profitability of the channel in %;
- Average speed of signal execution;
- Ratio of profitable signals to unprofitable ones.
A user chooses the channel according to the statistics and rating, subscribes to it, specifies the percent of investment to follow it, as well as decides on the sum to follow each separate signal. There are more complex configuration options for advanced users.
Having implemented the actions mentioned above "a passive trader" can visit the platform time after time to track each separate task in action and observe the results of trading.  However, if the result of task execution does not follow the scenario, this task can be canceled or edited at any time.
"We did our best to make our tariff as loyal for the customers as possible. The market is at a low point, the sentiments are sad. We offer new users a free 7-day period to test the platform. The following month of subscription costs $15. This payment will allow you to gain full access to all SmartTrade functions. The Auto – Trade function only withdraws commission from your profit in the amount of 10%. We considered it fair. Let me give an example: if you invest $10, in time your profit will amount to $100, and all you need to do is to choose a couple of channels, subscribe to them and automatically follow their signals. Our prices are 50-70% lower if compared to the competitors" — Filipp Antonov,  CTO
You can ask questions and chat with the developers on the platform's chat. If you need in English - chat.