The recession stage in the cryptocurrency market is over. This is evidenced by the chronology of events of the last six months, notes Tom Lee from Fundstrat Global.
According to Lee, the beginning of the end of the recession could be dated to early November 2018, when Bitcoin Cash suffered the hard fork, which happened due to the conflict between Craig Wright and Jihan Wu. As a result of their mining pools war, Bitcoin Cash split into two competing chains.
At the end of December, Grayscale Bitcoin Trust reported a drop in the securities premium to 5%, which was the lowest value since the beginning of 2017. But since then the premium has risen to 41%.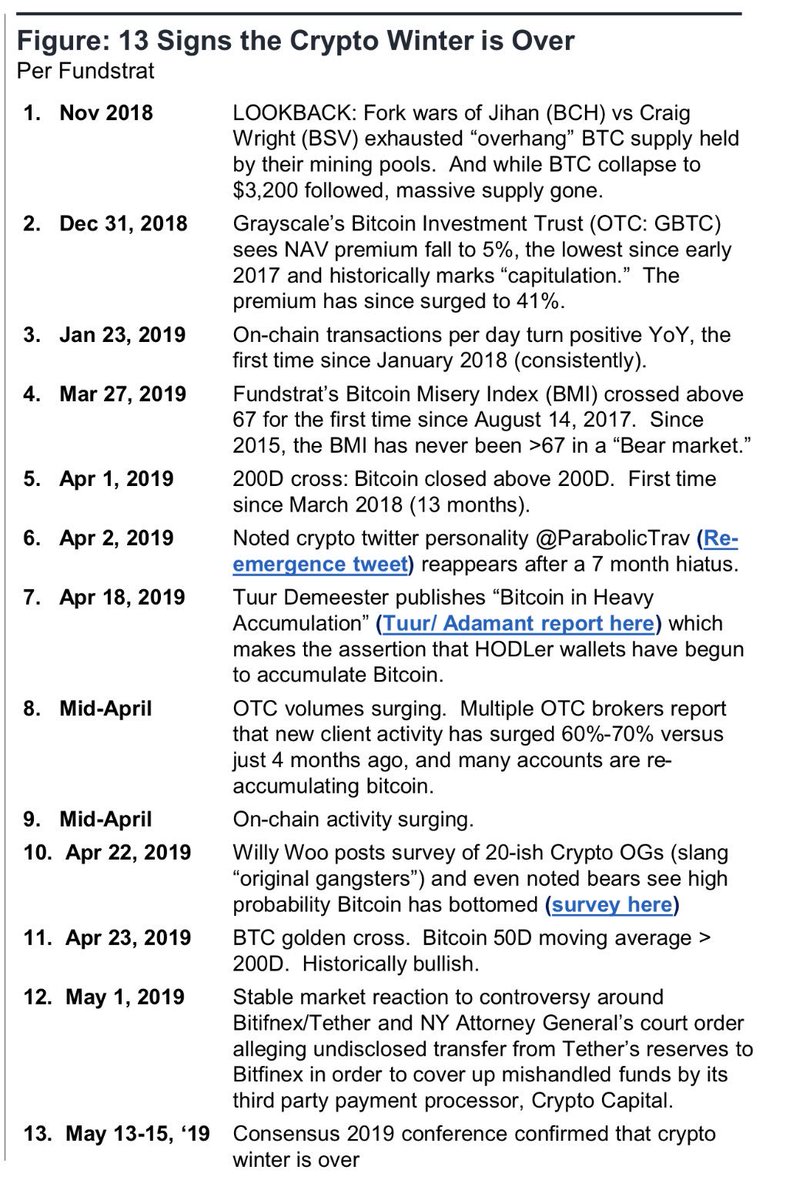 By the end of January 2019, the number of transactions in the bitcoin blockchain returned to YoY growth. It happened for the first time since January 2018. By the end of March 2019, the bitcoin misery index (BMI), which is calculated by Fundstrat Global, exceeded 67% for the first time since August 2017. Since 2015, this index has never exceeded 67% in a bear market.
In April, the bitcoin price overcame the 200-day MA for the first time since March 2018. At the same time, crypto-enthusiast under the nickname ParabolicTrav returned to Twitter, after 7 months of not writing anything on the social network.
In mid-April 2019, analyst Tuur Demister published a report, "Bitcoin in Heavy Accumulation," where he drew attention to the fact that hodlers' wallets began to accumulate bitcoins. At the same time, trading volumes on over-the-counter platforms began to grow. According to brokers, the influx of new customers to OTC markets jumped 60%-70% compared to the figures of the beginning of the year. Transactions in the bitcoin blockchain continued growing. The crypto-enthusiast Willy Wu, based on his analysis of market indicators, suggested that the bitcoin rate had hit its bottom.
On 23 April, 2019 the bitcoin price drew a classic golded cross, when the 50-day moving average crosses the 200-day MA. On 1 May, the bullish mood of the market became evident as the market remained stable despite an announced investigation by the New York Prosecutor General's Office against Bitfinex and Tether. And Consensus 2019 cemented this trend.