The bitcoin mining pool Poolin jumped to the second place in the world by hashrate, overtaking F2Pool. Bitmain's BTC.com remains the leader of the rating.
The Poolin mining pool, founded in 2017 by former employees of Chinese mining equipment giant Bitmain, took the second place in the rating of bitcoin mining pools by computing power. Poolin shared this information on its official Twitter, attaching a screenshot with statistics.
The first place is still occupied by the Chinese pool BTC.com, affiliated with Bitmain. F2Pool moved to the third place, and AntPool stands in the fourth place, ahead of ViaBTC and SlushPool.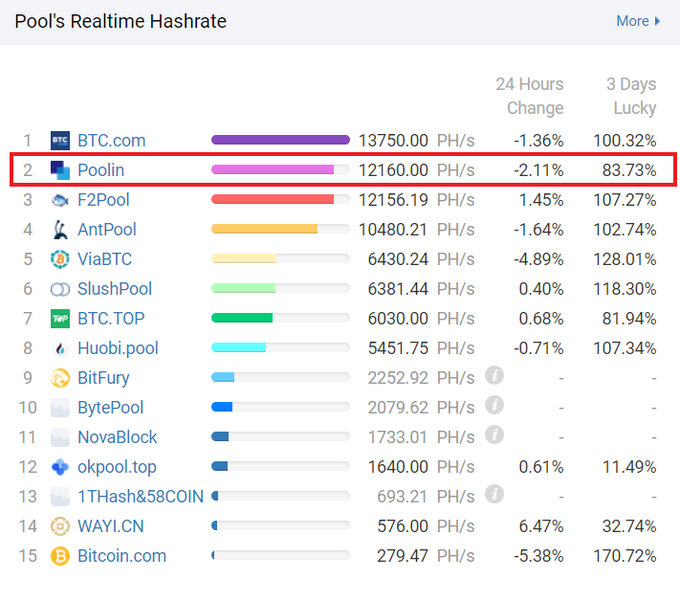 Since the beginning of July, Poolin increased its computing capacity almost twice, from 6.14 EH/s to 12.16 EH/s. Over the same period, the hashrate of BTC.com fell from 14.19 EH/s to 13.75 EH/s.
Poolin was established in 2017, but was launched in full force only in 2018. The company was founded by three former Bitmain employees, Zhibiao Pan, Fa Zhu, and Tianzhao Li. In June 2019, Bitmain sued them, demanding $4.3 million for violating their non-competition agreements. The defendants filed counterclaims according to which Bitmain did not fulfill its financial obligations under the non-competition agreements, which means that the contracts should be considered invalid.
According to the story of one of the founders of Poolin, Fa Zhu, while still working at Bitmain, they offered the management to launch another mining pool, but the idea did not find support. Then they decided to start the mining pool at their own expense. They quit Bitmain in mid-2017, having previously signed non-competition agreements. These contracts suggested that Bitmain would pay Zhibiao Pan, currently the CEO of Poolin, a monthly compensation worth approximately $2,780 for 24 months, while he refused to start any mining pool in exchange for this compensation. The amount of pecuniary compensation for the other two defendants was not made public. According to Pan, Bitmain at some point stopped paying compensations, that automatically indicated a breakdown of the non-competition agreement.