Bancor breach results in losses of thousands of ETH and millions of BNT. The latest incident raises again questions about security in the cryptocurrency industry.
On 9 July, at around 00.00 UTC, hackers broke into one of the hot wallets owned by the Bancor cryptocurrency platform and stole tokens worth $23.5 million. Cybercriminals robbed a wallet used to upgrade some smart contracts, according to Bancor.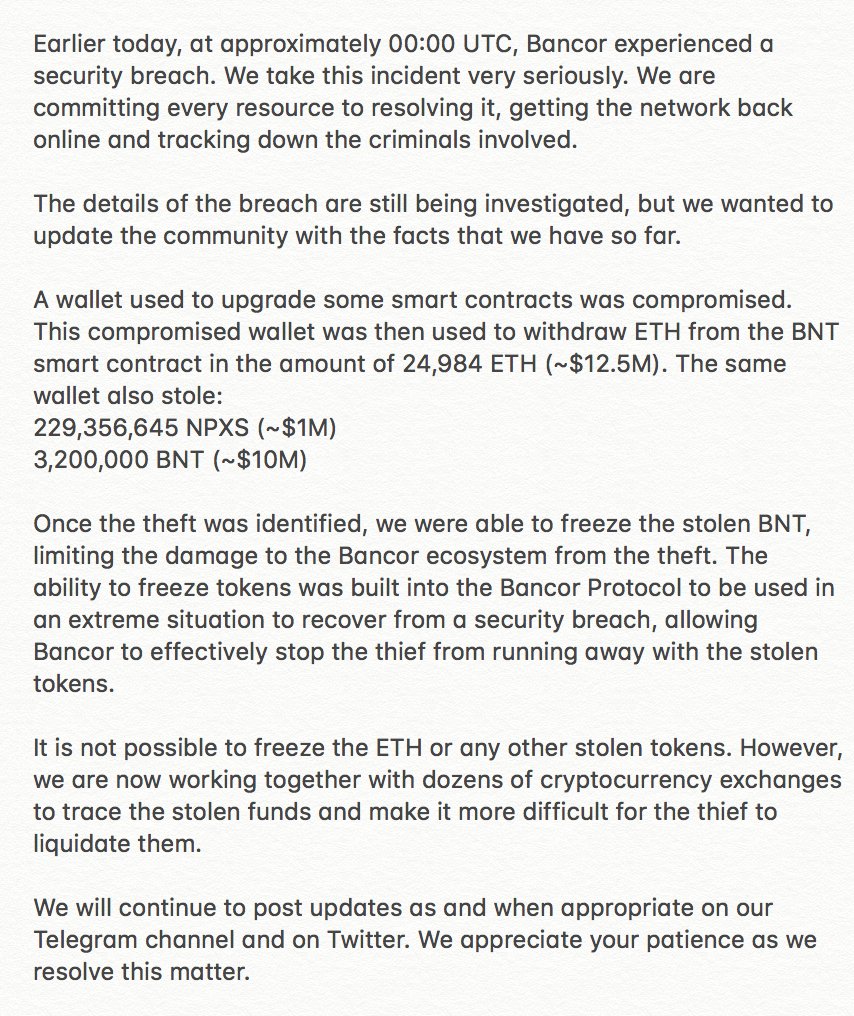 Bancor published the message confirming the incident in its Twitter several hours later. The team reported that the user's wallets were not compromised.
To reiterate, no user wallets have been compromised in the attack.

— Bancor (@Bancor) 9 июля 2018 г.
In total, 24,984 ETH worth $12.5 million, 3.2 million BNT tokens worth $10 million and approximately 229.36 NPXS worth $1 million were stolen. Thanks to the configuration of the Bancor protocol, the team managed to minimize the damage by freezing stolen BNT tokens. The investigation of the incident is ongoing, work is underway to track criminals, as well as stolen ETH and NPXS, which can not be frozen due to the configuration of their protocols. In addition, Bancor contacted a number of cryptocurrency exchanges to prevent hackers from selling stolen coins. The address which received the stolen assets is already identified.
The platform Bancor is built on the basis of Ethereum and allows to issue tokens, as well as deploy exchange systems. Bancor ICO took place on 15 June 2017 and ended in record time. Within the first three hours of Bancor crowdsale, the project attracted 400,000 ETH worth $142 million at that time.