An unidentified mining pool managed to return thousands of BCH coins that were mistakenly sent by their owners to addresses on the bitcoin network. Within two years, this miner did not return a cent to BCH owners but appropriated all coins worth millions of US dollars.
Soon after its appearance after the hard fork in August 2017, Bitcoin Cash faced a problem caused by the similarity of address formats in the BCH network and SegWit addresses in the Bitcoin network. For several years, Bitcoin Cash owners continued to mistakenly send their coins to addresses that are not supported on the Bitcoin Cash network, thereby losing control of these coins. Within two years, up to 18,000 BCH were lost.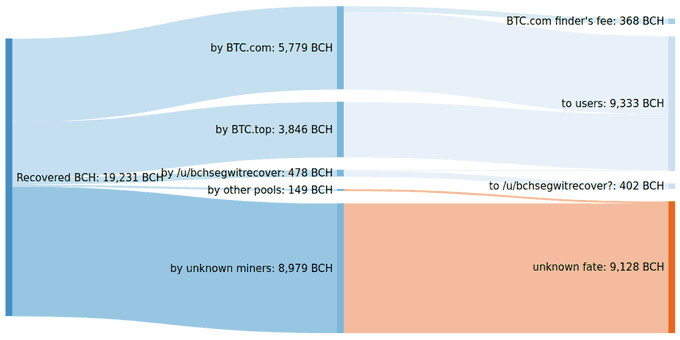 According to Coinmetrics analytical service, about half of the coins were returned to their owners using a recovery program supported by well-known mining pools such as BTC.com and BTC.top. But one mining pool, which could not be identified, restored 8979 BCH coins and appropriated them, not paying a cent to the initial owners of these coins. At the current rate, the "catch" of the unknown miner is estimated at $3 million.
The Bitcoin Cash network changed the address format at the end of 2018, but erroneous transactions continued to take place until April 2019.